2019 HYUNDAI VELOSTER VS KIA SOUL



Granted, this might seem an odd pairing. The Hyundai Veloster is a compact hatchback while the Kia Soul is a compact crossover. But even though their silhouettes look nothing alike, both of these vehicles are small, offer plenty of cargo space for their size, and look like a fun car to drive. So, we'll evaluate the Veloster and Soul on those merits in this comparison guide. Then we'll see who comes out on top in this contest of the cute.
FUEL ECONOMY: 2019 HYUNDAI VELOSTER
Small means fuel efficient, or at least it usually does. The Hyundai Veloster has a longer length overall, but much shorter height or lower weight. And weight and height are key because weight means more power to move and height contributes to drag. So not surprisingly, for gas mileage, the Veloster does better, getting 27 city miles and 34 highway miles per gallon. Meanwhile, the Kia Soul gets 24 city and 30 highway mpg. If you want to save at the pump, the longer, leaner Veloster is the way to go.
CARGO SPACE: 2019 KIA SOUL
Hatchbacks and crossovers, naturally, offer more cargo room than sedans and coupes. A trunk can be pretty limiting. So, it's with great interest that we see which of these compact cars offers more storage. The 2019 Hyundai Veloster boasts just shy of 20 cubic feet of cargo space. That can be expanded by putting the rear seats down to create 44 cubes, enough for some small furniture.
But the Kia Soul, because of its height, does even better. The Soul offers 24.2 cubic feet of storage, which bumps up to a whopping 61.3 with the rear seats down. That's a tremendous amount of space, but remember that that row of seats doesn't lie flat.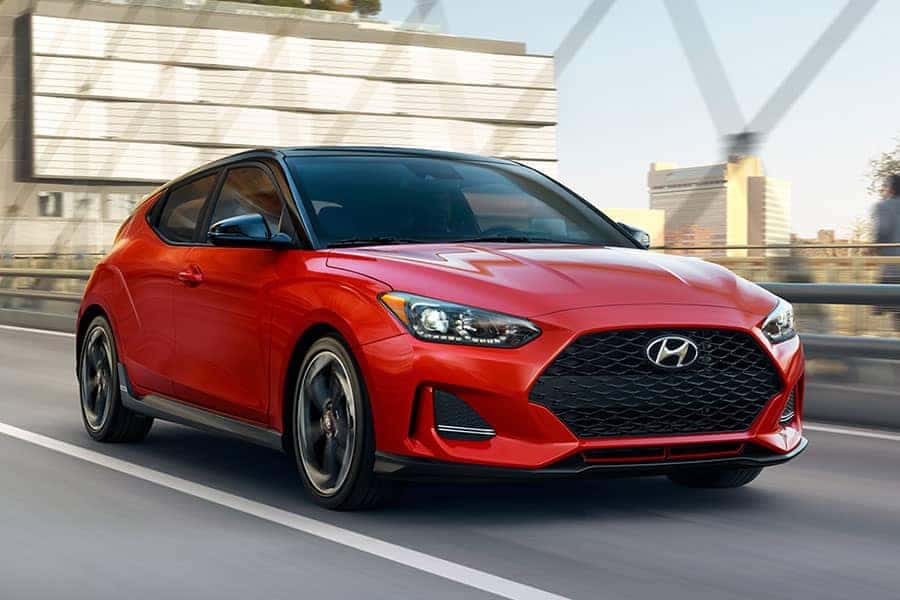 POWER AND PERFORMANCE: 2019 HYUNDAI VELOSTER
If you sit down in a Veloster without any expectations, you're in for a real treat. The redesigned Veloster is built as a performance car, with sporty suspension. You'll find this hatchback to be quick and responsive and wonderfully smooth. The Veloster comes with a base 147-horsepower four-cylinder engine. But if you want an athletic car, we recommend stepping up to higher trims to get the 201-horsepower, turbocharged four-cylinder. This engine offers better acceleration. And then watch for the performance-oriented Veloster N, which will feature a 275-horsepower turbo-four engine.
The base engine on the 2019 Kia Soul is an anemic 130-horsepower 1.6-liter four-cylinder engine. Unless affordability is of utmost concern, don't bother. After that, there's a 161-horsepower 2.0-liter four-cylinder, which is a middle-of-the-road power plant. The best powerful engine is a turbocharged 1.6-liter four-cylinder that generates 201 horsepower. So the Kia Soul might be fun to look at, but the Veloster drivers are the ones having all the fun.
In this battle, the Kia Soul wins in cargo space, but unless that's your prime motivation for getting a small car or you just have to have its boxy shape, the 2019 Hyundai Veloster is the better purchase, not to mention the more fun drive.