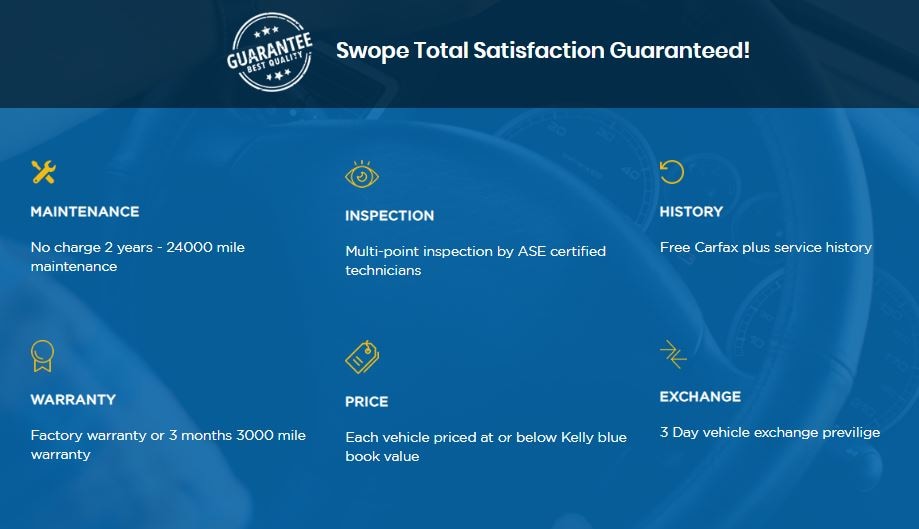 Total Satisfaction Guarantee
Why Buy Here?
2 Year Complimentary Maintenance On Every Vehicle
The Right Car, The Right Price, 3 Day Return Policy*
3 Month/3,000 Mile Powertrain Warranty*
Express Service In 30 Minutes Or Less With A Scheduled Appointment
Online Service Scheduling
Convenient Saturday Hours
The Swope Collision Center is I-Car Certified And The Only Aluminum Certified Collision Center In The Region
Swope Auto Detail & More Is The Only Cilajet Paint And Fabric Protectant Dealer In The State Of Kentucky
Swope Hyundai not just committed to our customers, we're committed to supporting the growth of our community by supporting community events like: Cruising the Heartland, BBQ Blues & Bikes, Hub City Tour, Hardin County Playhouse and The Color Run
In fact, a portion of every purchase is used to support local and military organizations working hard to support the soldiers and citizens in our community like: MWR Ft. Knox, United Way of Central Kentucky, Central Kentucky Community Foundation, SpringHaven, Community Health Clinic of Hardin & Larue County, Big Brothers Big Sisters, Habitat for Humanity, Hooray for Heroes, Feeding American and so many more organizations.
We contribute to over 100 schools & organizations in Hardin County every year!
*Please ask one of our Product Specialists about how the Swope Total Satisfaction Guarantee can help you with your next vehicle purchase. We are all here to help you!
Please Note: There must be less than 600 miles on the odometer or 3 business days. Whichever comes first.