2020 Hyundai Palisade vs Ford Explorer

Inventory
You can combine sporty performance and family-friendly travel in both the 2020 Hyundai Palisade and Ford Explorer. Which is the better option? Our comparison guide has the advice you seek.
Upscale Cruising: 2020 Hyundai Palisade
The all-new Palisade has a unique style, inside and out. You can spot Hyundai's midsize crossover coming from a long way off, thanks to its distinct headlights and grille design. Inside, you'll find a wealth of high-end materials and a stylish cabin design. If you're looking for the luxury treatment, this is the crossover for you.
After a complete redesign for 2020, Ford is putting a new spin on its midsize crossover. However, the Explorer's familiar styling cues don't set it too far apart from previous models - at least not as far as style is concerned.
Family-Friendly Cabin Space: 2020 Hyundai Palisade
The Palisade is so big on space that adult-size passengers fit comfortably in every row. This cabin is exactly what you want in a family hauler. Besides space and upscale style, this all-new Hyundai crossover comes standard with modern comforts like second-row air-conditioning controls. Climb the trim levels for more to love, including heated and ventilated seats.
Unlike the Palisade, which seats up to eight passengers, the Explorer has room for seven at the most. With second-row captain's chairs, that figure drops to six. However, we will say that all three rows are big on head- and legroom - an important feature for a family hauler.
Street-Smarts: 2020 Hyundai Palisade
The Palisade speaks to technophiles with its savvy standard lineup. Every trim model comes standard with Hyundai's easy-to-use infotainment system, which includes an 8-inch touchscreen and Apple CarPlay and Android Auto smartphone capabilities. There are three USB ports in the front row and two in the second row, ensuring everybody can charge their precious devices. Upgrade to the midlevel SEL trim for third-row USB ports.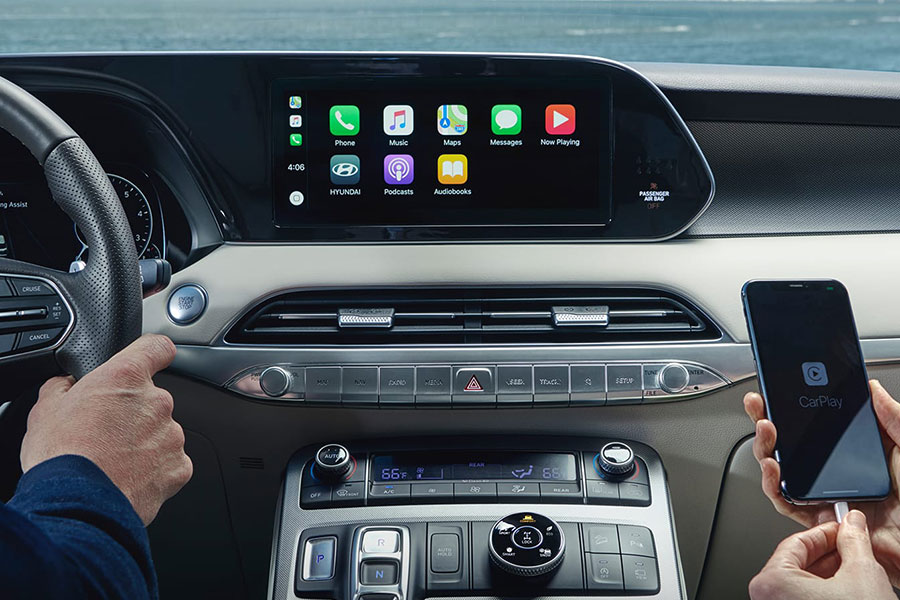 The Ford Explorer comes standard with all of the above items, with the exception of the numerous USB ports. It only comes standard with two. And, just like the Palisade, the Explorer comes standard with an impressive array of safety aids, including forward collision warning and automatic emergency braking.
However, the Palisade comes standard with some extra safety features, like the drowsy driver monitor and rear passenger reminder. The latter alerts you to any kids or pets still in the vehicle as you exit. This way, no one gets left behind.
Sporty Performance: 2020 Ford Explorer
The newly redesigned Explorer puts a serious emphasis on performance. Rear-wheel drive is back, improving both on-road handling and towing capabilities. Depending on engine and configuration, the Explorer can tow up to 5,600 pounds. Ford's crossover also gives you three engine options, the most powerful of which is a turbocharged 3.0-liter V6 rated for 400 horsepower and 415 pound-feet of torque.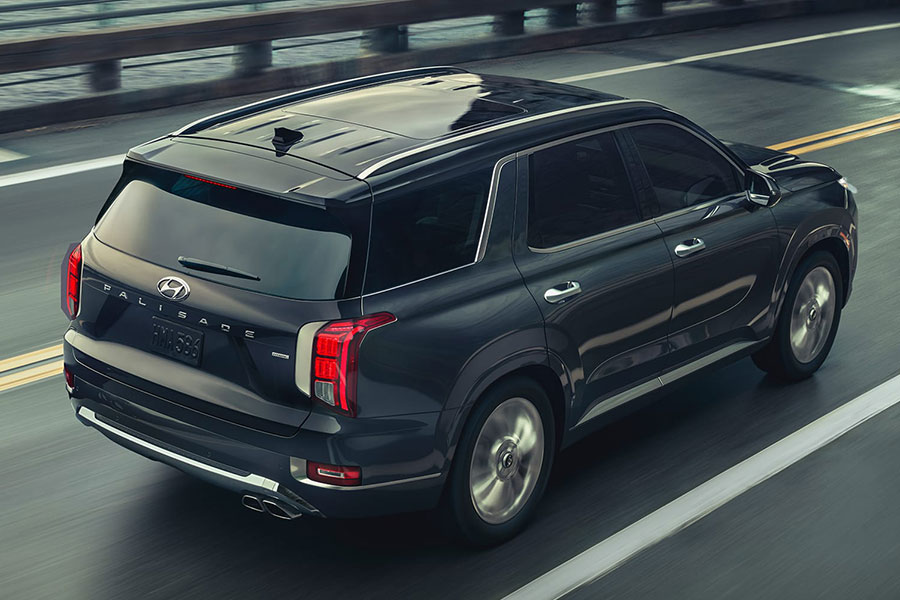 The 2020 Hyundai Palisade powertrain roster is much more straightforward. Every trim model gets the same 3.8-liter V6, which makes 291 horses and 262 pound-feet of torque. That's more than enough output to get this crossover up to speed as you merge into fast-moving traffic. Properly equipped, the Palisade can tow up to 5,000 pounds - almost as much as the Explorer can manage.
While the 2020 Ford Explorer is a muscular choice, the 2020 Hyundai Palisade treats you to pure comfort and class (and almost as much muscle). Your family will love the Palisades roomy seats and infotainment-rich cabin. You'll love the advanced safety features and high-end style. And did we mention that Hyundai has one of the best warranty programs in the nation? Get the most out of your daily drive with the Palisade.