2019 Hyundai Tucson vs Mazda CX-5

Inventory
Street-smart and sporty, the 2019 Hyundai Tucson and Mazda CX-5 are competing crossovers to watch out for. But you can only choose one - so which is it? Our comparison guide delves into the details.
More for Your Money: 2019 Hyundai Tucson
Not only does the Tucson feature the lower MSRP (starting at $23,350), but it also delivers more features for your money. Every Tucson comes with the smartphone integration features - including Apple CarPlay, Android Auto, and Bluetooth connectivity - that you can't live without. Conveniences like the windshield wiper de-icer and heated mirrors help you battle the elements at no extra cost.

The Mazda CX-5 costs a little bit more (starting at $24,350), and it stops just short of giving you complete smartphone integration. You get a 7-inch infotainment touchscreen and two USB ports for free, but you have to pay extra to get coveted Apple CarPlay and Android Auto capabilities.
Travel in Style: 2019 Hyundai Tucson
The Tucson puts you and your family up in a stylish, comfortable cabin - the kind of place where you don't mind spending hours on the road. On top of supportive seating, you'll even enjoy padded touch points for your elbows and knees. Personal space is also in abundance, so your whole family will love the drive.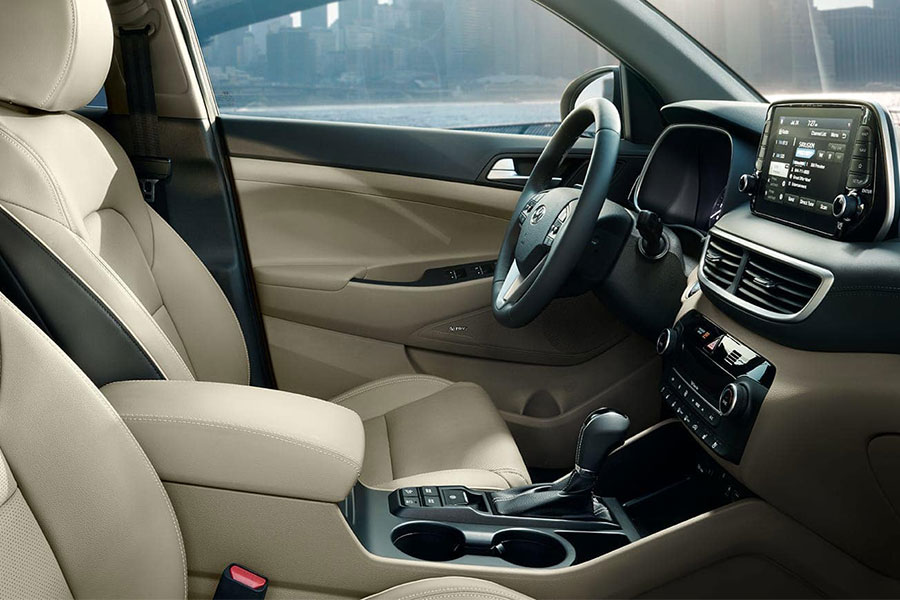 In the Mazda CX-5, there's also a lot to like. Hardly any noise seeps into the cabin, and the climate control system is quick to get into gear. There are only a few drawbacks. Firstly, the CX-5's sporty ride is a drag on ride comfort, making it feel a little stiff for some. And second, taller rear-seat passengers will wish for a little more thigh support, especially on longer trips.
Most Efficient Performance: 2019 Mazda CX-5
Like its fellow Mazdas, the CX-5 delivers a swift, sporty ride. In spite of all its pep, though, it also delivers the best EPA ratings of the two. Depending on your powertrain choices, this crossover earns up to 29 mpg combined (28 city/31 highway mpg).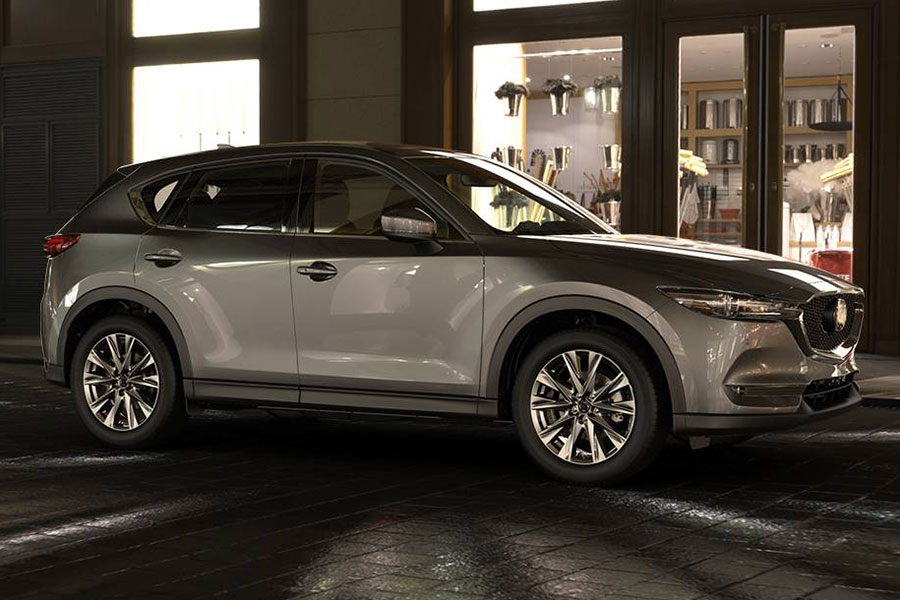 The Tucson might be in second place, but it's not actually that far behind. It also offers a range of engine configurations, with the thriftiest one delivering up to 26 mpg combined (23/30 mpg).
Best Safety Perks: 2019 Hyundai Tucson
But, in addition to costing less and delivering the best standard lineup, the Tucson also comes standard with more safety features. Every single one of these crossovers comes with automatic emergency braking and lane keeping assist, safety systems that can intervene with life-saving potential.
The Mazda CX-5 also has a few safety systems that come at no extra cost. However, its standard forward collision mitigation system only works at low speeds. Other systems, like lane keeping assist and pedestrian detection, are only available as options.
The 2019 Mazda CX-5 might be the sportiest (and slightly more efficient) of the pair, but the 2019 Hyundai Tucson is the real deal. This Hyundai crossover gives you way more for your money, from rich comfort to complete smartphone integration.