2019 Hyundai Sonata vs Honda Accord
Comfort comes first in the 2019 Hyundai Sonata and Honda Accord. But which of these roomy, smooth-riding sedans is more your style? Our comparison guide delves into the important details, like price, safety, fuel mileage, and ever-important smartphone cubbies.
Comfort at a Great Price: 2019 Hyundai Sonata
Both the Sonata and the Accord are good examples of just how competitive the mid-size sedan segment can be. With cabins chock full of passenger space and seating support for the long haul, it can actually be difficult to make a decision based solely on modern creature comforts. Let's take a look, then, at what you get for your money. Starting at just $22,300, the Sonata delivers major infotainment goods with a 7-inch touchscreen and hands-free smartphone access with Android Auto and Apple CarPlay technology.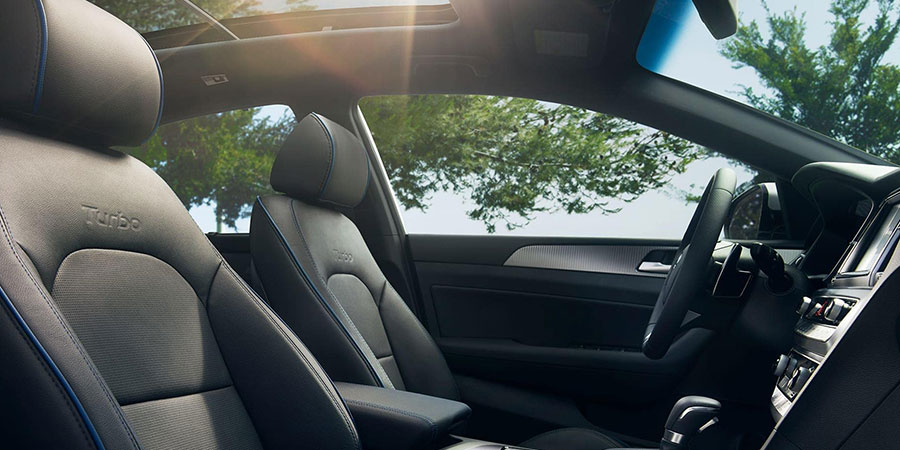 The Honda Accord has a higher starting price of $23,720. But the Accord doesn't even give you all of the standard features you'll find on the Sonata. To get the same kind of smartphone features, for example, you have to pay extra for the Accord's mid-grade Sport trim.
Smartest Safety Lineup: 2019 Hyundai Sonata
The Sonata has your safety in mind, with pristine crash-test scores and handy safety gadgets to put your mind at ease. In government crash tests, this savvy sedan earned a perfect five-star rating for overall protection. The standard lineup includes blind-spot monitoring and a rearview camera, electronically enhancing your visibility to prevent dust-ups. Better yet, high-tech crash mitigation features (forward collision mitigation and lane-keeping assist) are available on almost every Sonata.
The Honda Accord comes standard with a lot of the aforementioned safety features, including automatic emergency braking and lane keeping assist. But there's one big catch. Honda's systems are known for being overprotective, warning you even when a situation isn't exactly dangerous. This can cause a big problem, because many drivers will begin to disregard warnings from systems that are known to cry wolf.
Most Cargo Space: 2019 Hyundai Sonata
If you refuse to pack light, the 2019 Hyundai Sonata is the sedan for you. Both cars offer a similar amount of cargo space (16.3 cubic feet in the Sonata and 16.7 cubes in the Accord), but the Sonata does a better job of organizing your carry-on items. Hyundai's mid-size sedan has no shortage of in-cabin cubbies and bins, so you'll never wonder where to stow your extra water bottle. We're especially big fans of the grippy wireless charging pad, which keeps your smartphone secure even as the pad powers its battery.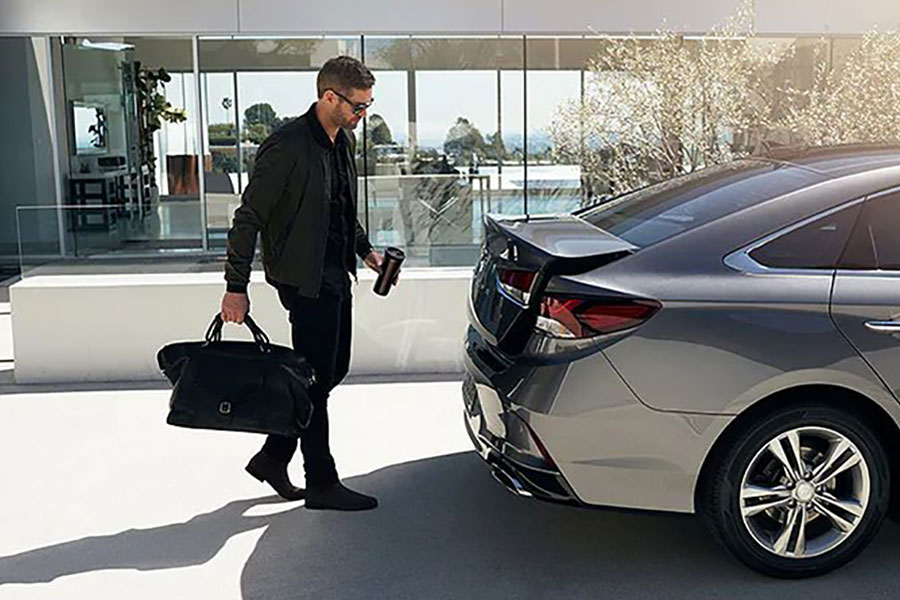 The Honda Accord has some utility up its sleeve too. Besides its excellent trunk volume, the cabin introduces some handy in-cabin spots for your stuff. There are door pockets for your water bottles and you'll find the wireless charging pad inside a cubby. However, the Sonata's smart design really has an edge over that of the Accord, whose in-cabin storage spots look a bit dated.
Thriftiest Performance: 2019 Honda Accord
To save a bit on gas, check out the Accord. Depending on the powertrain you select, this mid-size sedan will deliver up to 30 city/38 highway mpg. That's slightly better than the Sonata's best EPA ratings, which max out at 28/37 mpg. Either way you look at it though, both sedans are deft at combining spirited performance with a thrifty ride. The Sonata and Accord can't help but appeal to drivers with their classic sedan smoothness and polite road manners.
The Accord might get a smidge better fuel economy, but the 2019 Hyundai Sonata is really the whole package. Not only does the Sonata deliver all the usual mid-size sedan perks-like roomy, comfy seating and a silky smooth ride-but the Sonata also puts a great price on cutting-edge tech and safety features.