2019 Hyundai Sonata
The Sonata has been around longer than any other Hyundai model. Debuting in 1985, the Sonata is now well into its seventh generation. In all that time, the Sonata has had its ups and downs, but today Hyundai is synonymous with plenty of tech, impressive warranty, upscale interior, and a spacious cabin and trunk. Nothing has changed on the Sonata since last year, so we'll focus on what's been great about this car for a few years now.
Technology for the Masses
Smartphone integration coming to you via Apple CarPlay and Android Auto come standard. That's a huge shot in the arm for any vehicle's tech features. That comes along with Hyundai's Blue Link infotainment system. For you technophiles out there, we recommend the Sonata SEL with Technology Package. It upgrades the engine, then adds seven-speed dual-clutch automatic transmission, HD Radio, satellite radio, lane keep assist, adaptive cruise control, automatic emergency braking, and pedestrian detection.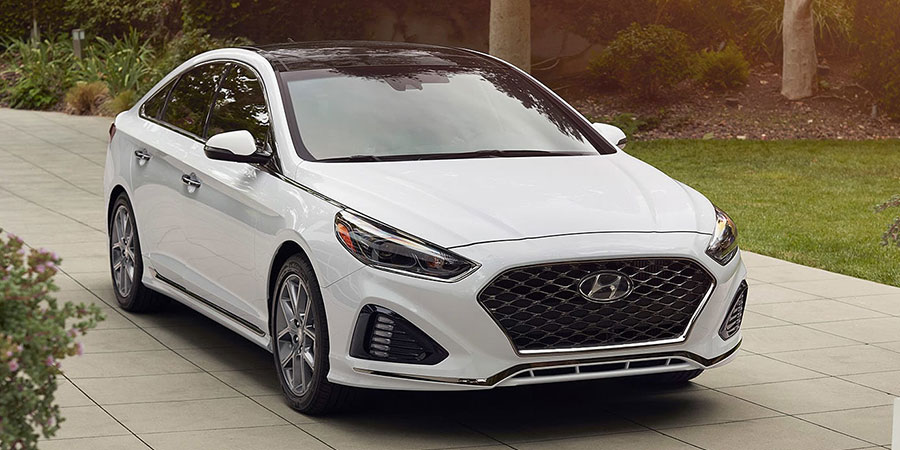 Look at all this Space!
Walk up to your Hyundai Sonata with the fob in your pocket and it springs open thanks to the Sonata's hand-free power trunk, a rare feature indeed. The trunk pops open to reveal an impressive 16 cubic feet of cargo room. That's more than most other midsize cars offer, and accommodates the gear of many different hobbies or just a heck of a lot of groceries.
Move to the cabin and you'll find wide and spacious seats and plenty of head and le groom. In fact, the Sonata is class-leading in terms of head room, 40.4 inches up front and 38 inches in back, and the best in front leg room, at 45.5 inches. It has the same rear leg room as the Kia Optima, at 35.6 inches. You really can't do better without switching to a large car.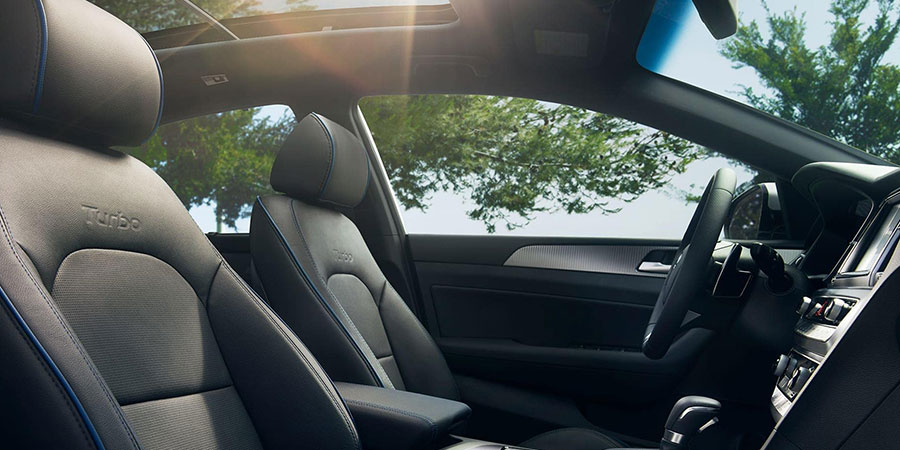 Upscale Interior
The Sonata's interior benefited from an overhaul just mid-year last year. The seating is wide and comfortable, and comes in cloth or leather at the Limited trim. Even the cloth interior is nicely executed, with leather bolsters and contrast stitching. The controls are nicely laid out, all built around a redesigned center stack. Controls are intuitively-placed with wide horizontal buttons that are easy to find in a hurry. A 7-inch touch screen display comes standard. The four-spoke steering wheel has been swapped out for a more modern three-spoke wheel with flat bottom. Overall, the Sonata's is a clean design with quality materials. Optional cabin features include power sunroof, dual-zone automatic climate control, and 8-inch touch screen.
Unbeatable Warranty
Hyundai offers one of the most competitive warranties on the market. We're talking about a five-year, 60,000-mile limited warranty and a ten-year, 100,000-mile powertrain warranty. As long as your warranty isn't up, get your repairs done at a Hyundai service center for free. If you love a spacious car and trunk without driving something hearse-size, the Sonata is a good one. If you want a nigh unbeatable warranty, how about the Sonata? If you want a cabin you don't mind sitting in for a while, the Sonata.