2019 Hyundai Ioniq
The Hyundai Ioniq is trying to claim the title 'Car of the Future.' Even the car's name sounds futuristic, a combination of the words ion and unique. And what the Ioniq claims to be is exactly what this midsize car is. The Ioniq comes with one of three engine options: Hybrid, Electric, and Plug-In Hybrid. The Ioniq promises robust fuel efficiency, advanced technology, and, to our surprise, affordability. In this preview guide, we'll tell you what you can expect from the latest model year of this car of the future.
Fuel Economy
You can keep that oil in the ground because the Ioniq doesn't need it. The exact gas mileage depends on which of the three engines we're talking about. First of all, the Ioniq Electric doesn't even have a gas mileage. Instead, its battery holds a charge that's good for 124 miles. It gets 150 MPGe city and 122 MPGe highway. MPGe stands for 'miles per gallon equivalent,' a measurement of energy consumed equivalent to a gallon of gasoline.
The Ioniq Hybrid uses an electric battery to help you go farther on each gallon of gas. Every time you break, the battery stores the spent energy to help you accelerate again. This gas/electric hybrid has a range of 690 miles. All the while, the Ioniq gets 53 city and 52 highway miles per gallon of gasoline. A conventional car just can't compete.
Finally, there's the Hybrid Plug-In. This one mixes the best of both worlds, with an electric battery and gas tank. Plug it in at night to recharge its battery. In the morning you can go 29 miles without touching anything in the gas tank, which just might cover your morning and evening commute entirely. What happens when you deplete the battery? It switches over to the gas, but continue to charge the battery wherever possible, just like a hybrid should. As a result, it can go 630 miles on a single tank and gets 53 city mpg and 52 highway mpg. Any of these options has fantastic fuel economy.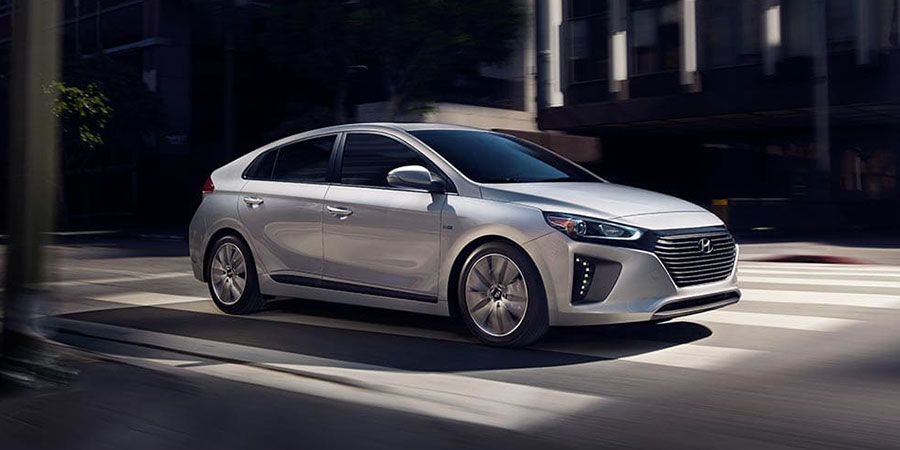 Tech from the Get-Go
The Hyundai Ioniq doesn't skimp on tech. Even the base Blue trim level boasts standard tech features that are usually reserved for upper trim levels in other cars. We're talking 7-inch touch-screen display, Android Auto, Apple CarPlay, Bluetooth, HD Radio, satellite radio, rear view camera, and proximity key with push-button start. By time we get to the Ioniq Limited, we pick up plenty of active safety features as well, like blind spot detection,and rear cross traffic alert, not to mention those heated front seats perfect for a chilly morning.
All For Half the Cost of a Truck
You're going to save a lot of money in fuel expenses, but you might also be surprised at how affordable the Hyundai Ioniq is to buy. Starting at $22,000, the Ioniq Hybrid is the least expensive option. It comes in base Blue, SEL ($24,000), and Limited ($27,550) trim levels.
The Plug-In Hybrid starts at $24,950 while its Limited trim is $28,300. Finally, the Ioniq Electric starts at just $29,500 or comes as a Limited for $36,000. But the Electric might prove to be even more affordable, because it qualifies you for a $7,500 federal tax credit. Who knew you could save money at the pump and at buy-in? Come check out the Ioniq.