2019 Hyundai Elantra
What was once a drab, boxy car of the early 90s has evolved into a svelte, stylish car that has more than a hint of luxury. 2019 is a banner year for the Elantra, with a detailed refresh that left few pieces of the Elantra untouched. In this preview guide, we'll go over all the new and still cool features of this compact four-door sedan.
What's New for 2019?
Quite a lot is new, actually. This 2019 model was supposed to get the typical mid-cycle refresh that lots of cars get between complete overhauls. But with all the changes coming, the 2019 Elantra seems to land somewhere between a model refresh and an overhaul. The exterior styling sways toward luxury and angles, with a wider grille that accentuates its horizontal black bars. The headlights, now LED, have been pinched on one end to create triangles, giving it a fierce look. The front bumper has angular creases and more triangular LED lights, this time the foglights. New wheels with a split-spoke design come in three sizes: 15-, 16-, and 17-inch. The tail lights also angle downward, with two LED strips below them. The rear bumper has also been reshaped to look like a cavernous mouth.
What about inside? There's a new instrument binnacle, center screen, and different HVAC controls. Air vents bear two-tone metallic accents in rectangular shapes within the vanes. The cabin is made of new sound-absorbing material and there's a redesigned rearview camera system with dynamic guidelines.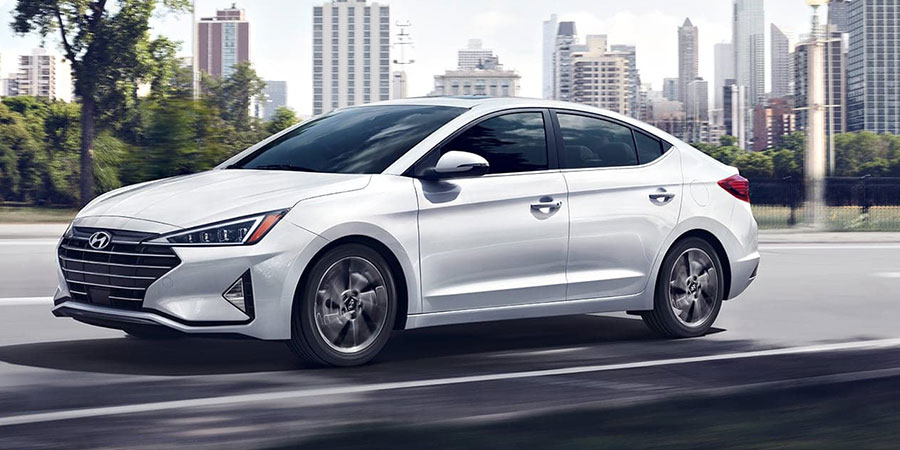 A new infotainment system comes in 2019. This tech is the newest generation of touchscreen AVN infotainment on a 5-, 7- or 8-inch touch screen display that always sports Apple CarPlay and Android Auto. Even the base Elantra comes standard with 5-inch color audio-system display, manual-transmission, steering-wheel audio controls and Bluetooth, and On upper models, you can add wireless charging, a premium audio system, navigation, and larger screen with a faster processor.
Finally, the 2019 Hyundai Elantra is getting new safety systems. For example, the SEL models and above get forward-collision warning, lane-keeping assist, and driver-attention alert. Those who get the Limited trim can add an Ultimate package, which gives them Safe Exit Assist and pedestrian-detection functionality for the forward-collision-warning system.
What Are the Best Features of the Elantra?
Phew, a lot has changed on the 2019 Elantra, the recipient of a very thorough refresh. But there are some things the Elantra has done well all along. The Elantra has above-average fuel economy for its class, getting 28 city miles and 37 highway miles per gallon. The seats are known for comfort, feeling a bit more like a large car than a compact in terms of plush seating and quiet, comfortable ride while the steering still manages to feel anything but mushy. The Elantra has a larger trunk than most compact cars, an intuitive cabin layout, and more. There's plenty we could say about this car, but the best thing would be to go out and test drive one.