2018 Hyundai Sonata vs Mazda 6
The struggle is real. You want something sporty and fun but you also don't want to sit in a cramped, gas-guzzling midlife-crisis mobile. In this comparison guide, we'll show you a couple of options that straddle fun and practicality: the 2018 Hyundai Sonata and the Mazda6. You can see that both midsize cars are gorgeous. Both have comparable engine options, a milder base engine and a sportier option on higher trims. But which makes you feel more like a proper grown up? Which lets you have your cake and eat it too?
Reliability: 2018 Hyundai Sonata
Nothing's more grown up than looking at reliability ratings. That's right. You're planning ahead and being sensible. And you can feel good about the Hyundai Sonata. JD Power and Associates rates the Sonata as 3.5 out of 5 in reliability. That doesn't sound too awesome, but this rating doesn't suffer from grade inflation. More than half of cars fare worse, so this rating is definitely above average. You can expect to have fewer problems and less repair work with the Hyundai Sonata than most other cars.
The Mazda6 doesn't come out looking as good. The Mazda scored only 2.5 out of 5 in reliability in the same study. That means the Mazda6 fares worse than more than half of cars on the market today. Expect more repair work with the Mazda6 than with the Hyundai Sonata.
Fuel Economy: 2018 Hyundai Sonata
What could be more mature than caring about the environment and saving money? The 2018 Hyundai Sonata gets 25 mpg in the city and 35 mpg on the highway. If you choose the Eco trim, you can bump your fuel economy up to 28 city miles and 37 highway miles per gallon. There are more fuel-efficient cars out there, but this one rates as comparatively good.
We wish we could say the same for the Mazda6. The base engine is roughly the same as that of the Sonata, getting 26 city miles and 35 highway miles per gallon. But it's only other engine option sinks to 23 city and 31 highway miles per gallon. The Sonata Eco trim does it better, and will make your mature side a little happier.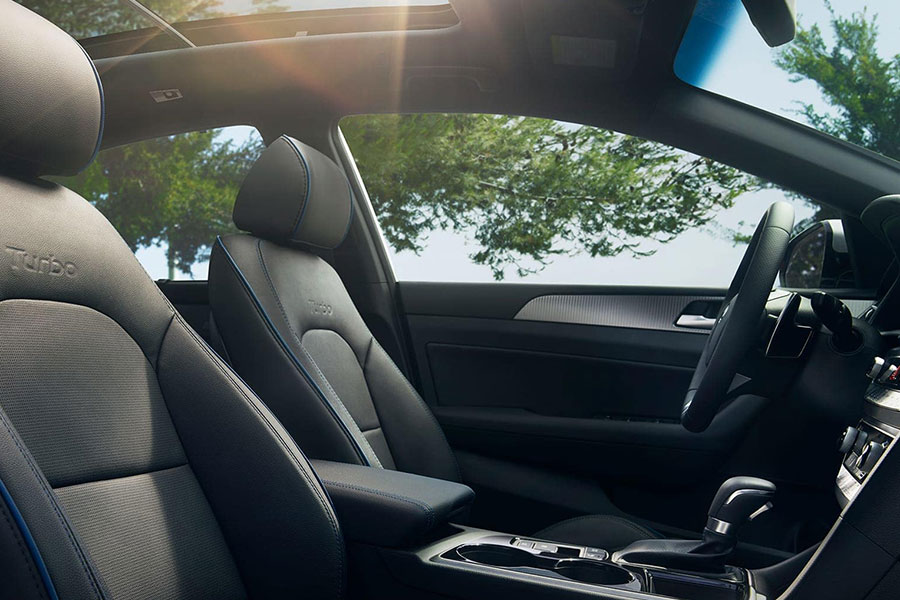 Space: 2018 Hyundai Sonata
Plenty of cars sold are sporty, but many of them are also cramped, with almost no back seat and low rooflines. The 2018 Hyundai Sonata does not cramp your style in any possible way. The Sonata has plenty of passenger space: 106.1 cubic feet to be exact. That gives you seating for five passengers on comfortable seats and more head and leg room than you get in the Mazda6. Pop the trunk and you'll discover a generous 16.3 cubic feet of cargo room, with an available power liftgate option for added convenience.
The Mazda6 isn't going to win any awards for space. The 6 is smaller inside than the Sonata, by about 5.5 cubic feet of passenger space. There's less leg and head room for front seat passengers, by three inches or more. You'll also find less space in the trunk. The Mazda6 offers only 14.8 cubic feet so if storage is a must, keep walking.