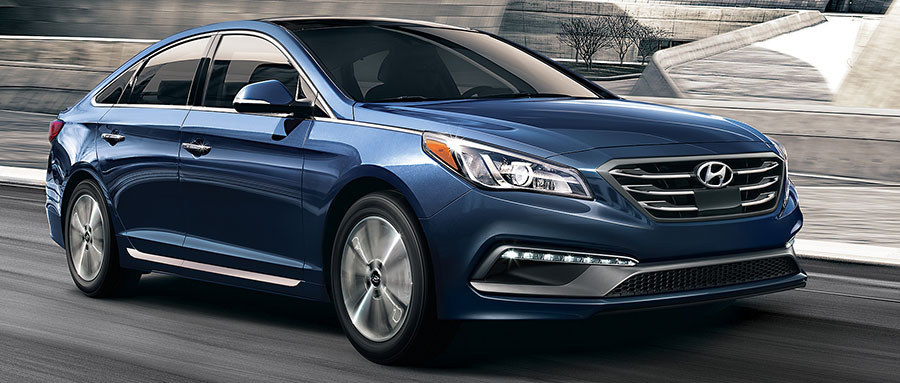 When you require family-friendly comfort and a luxuriously smooth ride, the 2017 Hyundai Sonata is a smart choice. Inside, this mid-size sedan leads the pack on passenger space, making the Sonata a prime pick for families on the go. Thanks to a crisp, responsive central touchscreen display, infotainment options are highly accessible The Sonata's perfect five-star safety rating builds your confidence that the Sonata will give you a smooth, quiet ride worthy of a much steeper price tag.
2017 Hyundai Sonata
With extensive functionality that makes everything from comfy weekend road trips to a smooth daily commute better, the 2017 Hyundai Sonata offers mass appeal. Its spacious cabin provides generous space for four adult-size passengers, meaning that younger families not only have room, but room to grow. The front seats supply plush padding and long-term support, making the Sonata a wonderful option for road trips or wandering Sunday drives. To add a little extra style, the two-tone color scheme and handsome wood trim is an available option for your Sonata. If you're an enthusiastic driver, check out the optional sport seats, which provide extra bolstering to keep you in place during spirited rides.
In government crash tests, the 2017 Hyundai Sonata earned a perfect five-star rating for overall protection. The IIHS even issued a rare "Superior" for the Sonata's forward crash prevention system, which automatically applies the brakes when it senses imminent danger. The Sonata's Blue Link emergency telematics system is another important safety net. Its wide-ranging features - including roadside assistance and crash response - help you solve immediate problems. Another interesting feature of Blue Link means providing safety for younger drivers, including geo-fencing and curfew limits to help you keep track of your favorite teenager. Peace of mind seems to come standard as a part of the Sonata's overall safety package.
Besides high-tech safety gear, the 2017 Hyundai Sonata supplies the infotainment features that modern drivers need in their daily lives. The central touchscreen doesn't merely provide crisp, clear graphics - its important features are easily accessible. You can use navigation, phone, and radio options without having to dig through pages of menus. You'll also love the Android Auto and Apple CarPlay technology, which displays your smartphone's apps menu on the central touchscreen. This feature is great for hands-free access to your text messages and podcasts. If you're often in your car, you'll love the ease of this system.
On the road, the 2017 Hyundai Sonata sets itself apart from competitors with its quiet cabin and luxurious ride. From behind the wheel, you'll always feel perfectly in control, because steering is sharp and handling is predictable. The Sonata easily manages bumps in the road to maintain ride comfort. This mid-size sedan also provides a range of powertrain options, so you can tailor your ride to suit your personal preferences. The Sport model, for example, is specially tuned to deliver quick reflexes and athletic speed. With the Sonata Eco, you'll enjoy maximum fuel economy - earning 28 city/36 highway mpg.

Sonata Limited 2.0T
With a host of high-tech driver safety aids and innovative comfort features, the Sonata Limited 2.0T isn't a model to be missed. The automatic pre-collision braking system, for example, jumps into action when it detects an oncoming crash, mitigating or even helping you avoid damages altogether. Inside, the Limited 2.0T helps you battle the elements with features like ventilated front seats and a heated steering wheel, effectively maximizing on-road contentment.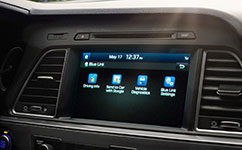 Apple CarPlay & Android Auto
Access smartphone apps directly from the Sonata's crisp color touchscreen.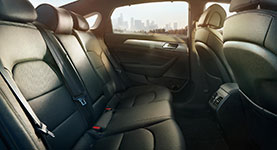 Class-Leading Interior Space
The Sonata's class-leading passenger and total space redefines family-friendly comfort.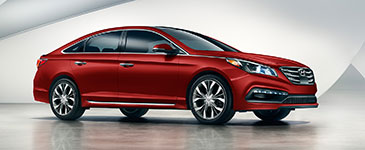 Striking Exterior Style
Smooth curves and chrome door handles turn heads on the highway.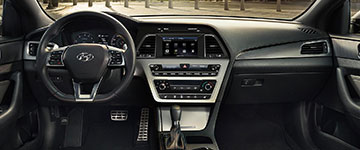 Drive Mode Select
Alter steering settings for enhanced control or an effortless ride - whatever you prefer.
Conclusion
The 2017 Hyundai Sonata is a worthy choice for everything from a daily commute to work to your kids' soccer practice rendezvous to long vacation road trips. This model is a segment standout, especially in terms of its comfortable, quiet ride. Wherever you take your Sonata, you'll experience smooth sailing, with long-term comfort and plenty of legroom with a safety track record that will bring you confidence as you handle whatever the day throws at you.