In sporty crossovers like the 2017 Hyundai Santa Fe Sport and Toyota RAV4, your next adventure is always waiting just around the corner. These models supply the all-wheel-drive performance necessary to venture into the great outdoors. Inside, they're incredibly spacious. But which one works best with your lifestyle? Before you decide on the right crossover SUV for you, give our four-category comparison guide a quick read.
2017 Hyundai Santa Fe Sport vs Toyota RAV4
Passenger Comfort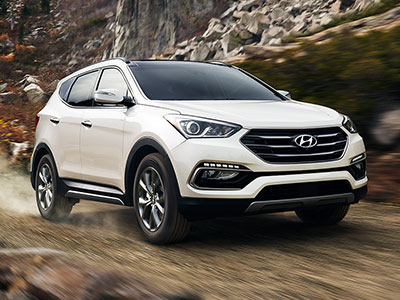 When you choose the 2017 Hyundai Santa Fe Sport, comfort is always on demand. With spacious seating for up to five passengers, this crossover is uniquely suited to creating road-trip memories. Little luxuries, like leather upholstery, even give the Santa Fe Sport a premium vibe.
The RAV4 is a great pick for space, with major head and leg room for the whole crew. Seating isn't quite as supportive as what you'll find in the 2017 Hyundai Santa Fe Sport, but, overall, it keeps you comfy on long trips. We're giving the nod to the Santa Fe Sport, though, for the little extras that make the difference.
Tech Gear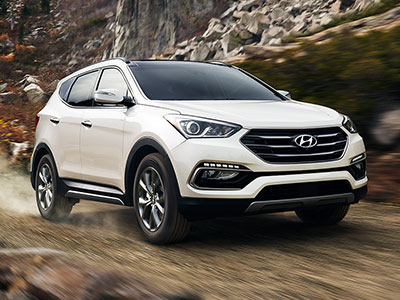 With the Santa Fe Sport, you always get a cutting-edge tech experience. Even the wallet-friendly base model gives you Bluetooth for hands-free calling. Other savvy features include Android Auto connectivity, which projects your smartphone apps directly onto the central touchscreen, eliminating the need to look away from traffic and down at your phone.
The RAV4's navigation system does a great job at finding the best route home. Unfortunately, the RAV4 doesn't offer the complete connectivity you get with the Santa Fe Sport's Android Auto, but it does supply the basics. However, the Entune multimedia system is intuitive and easy to use, so you can always find the app you seek.
Sporty Ride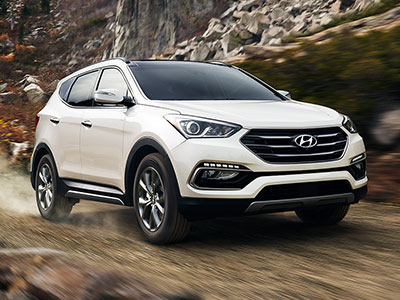 The 2017 Hyundai Santa Fe Sport's turbocharged engine offers an exciting take on your daily commute. Thanks to its sporty handling, you can swing around tight curves with skill. When you choose all-wheel drive, it's easy to leave the pavement behind for your next adventure.
The RAV4 also offers all-wheel drive, pumping up traction levels over icy roads to give you maximum driver control. Although its overall performance is pretty impressive, the RAV4 no longer offers its peppy engine upgrade, and acceleration isn't quite on par with that of the Santa Fe Sport.
Safety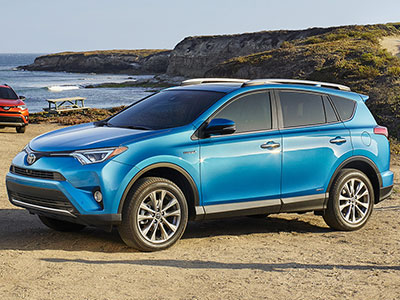 The RAV4 is our choice here, because all trim models come standard with high-tech safety gear. This includes the forward collision mitigation system, which can detect an oncoming crash and automatically apply the brakes to help you stay safe. This technology earned a rare score of "Superior" from the Insurance Institute for Highway Safety, giving you extra peace of mind when you're making your way through congested city grids.
However, the Santa Fe Sport still scores major points with its 360-degree multi-view camera system, which supplies a top-down look at your ride as you pull into parallel spaces. However, unlike the RAV4, you've got to pay extra if you want high-tech driver aids like lane departure warning and forward collision alert.
Learn More about the Hyundai Santa Fe Sport

Both crossovers strike an impressive balance of fuel economy and power, but the 2017 Hyundai Santa Fe Sport's all-around appeal makes it the real prize. No matter which Santa Fe Sport trim model is the best fit for your budget, the Santa Fe Sport is loaded with tech features, a room interior, and an athletic ride.