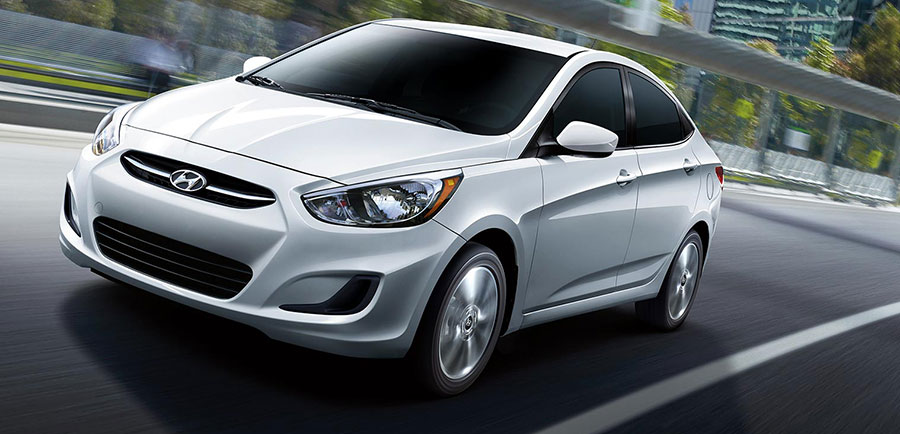 Compact on the outside and sublimely spacious on the inside, the 2017 Hyundai Accent is your ticket to a smooth ride in any setting. Head and leg room are generous in both rows, and the Accent's compact profile gives you the perfect amount of leeway to switch lanes in heavy traffic or snag the last parallel parking space in a 10-mile radius.
2017 Hyundai Accent
The 2017 Hyundai Accent offers comfort on every level. With seating for up to five passengers, both front and rear seats supply generous head and leg room. Whether you're stuck in the slow-moving school drop-off line or cruising to the beach with a jam-packed cabin full of friends, everyone enjoys plenty of wiggle room. Kick up the luxury a notch with the Accent's optional center console storage box. In addition to providing a place to stow valuables out of sight from would-be thieves, it supplies a convenient sliding armrest console with all-star ergonomics.
The 2017 Hyundai Accent's many utility features will get you through a long day of errands - or a lengthy road trip - in total comfort. Deep cup holders are perfect for your favorite takeout beverage, whether that's a fresh-squeezed green juice or a Big Gulp fountain soda. With tall, wide door openings, any cargo items you toss in the backseat are always easily accessible and getting in and out is a breeze as well. In hatchback models, you get serious cargo space. Behind the rear seats, you can fill 21 cubic feet with a few of your favorite things - like shopping bags, tennis rackets, and an after-work, barhopping change of clothes. To move larger items - including that old-school box television set you've been meaning to get rid of - simply flip down the rear seats to create 47.5 cubic feet of maximum space.
Your Accent is specially designed to balance thrifty fuel economy with a smooth, capable ride. The EPA rated the 2017 Hyundai Accent to earn up to 27 city/37 highway mpg, so you can spend money on more interesting things, like your family's favorite pizza joint. However, the Accent is never short on power. When the light turns a long-awaited green, the Accent is one of the best in the segment at getting you up to speed. Its reliable acceleration is a win on the highway, because you never have to plan merging or passing maneuvers. Simply step on the gas and let the Accent do its job! Most notably, the Accent delivers a quiet, luxurious ride in any setting. However, it's also sporty, so you feel confident as you zip around corners or glide around highway curves.
Safety is another of the 2017 Hyundai Accent's priorities. In crash tests, the Insurance Institute for Highway Safety gave the Accent's head restraints and seats its top score of "Good." It also earned top marks in moderate overlap front crash tests. Throughout the cabin, six airbags are designed to cushion passengers and mitigate passenger injury in the case of an accident.

Accent Sport
The 2017 Hyundai Accent Sport is a hatchback that's up for just about anything. In addition to all the features on lesser trim models, it packs exclusive items designed to turn heads, like projector-beam headlights with LED accents. Its sport-tuned steering adds to the Accent's fun-to-drive nature, giving you the precision you require to navigate extremely sharp corners. The Accent Sport interior is a cut above the rest, featuring upgraded cloth upholstery and piano-black interior accents, expanding comfort and style all at once.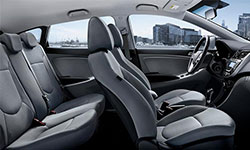 Family-Oriented Cabin
Buckle everyone into the Accent and head across country in comfort.

Sedan & Hatchback Options
Choose the Hyundai Accent that speaks to your lifestyle, from sporty to stylish.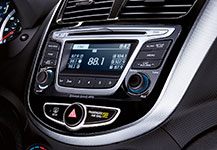 Sirius XM
With more than 150 stations streaming, there's always something on Sirius XM.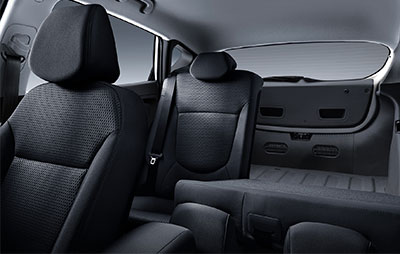 Versatile Cargo Space
When you need to haul larger items, increased cargo space is easy to come by.
Conclusion
For stylish comfort and impressive savings, the 2017 Hyundai Accent is the total package. Its friendly price tag makes it the perfect pick for budget-conscious drivers who don't want to miss out a on a quiet, comfortable, roomy ride, while the Accent's compact size is exactly what you need in a tight spot.