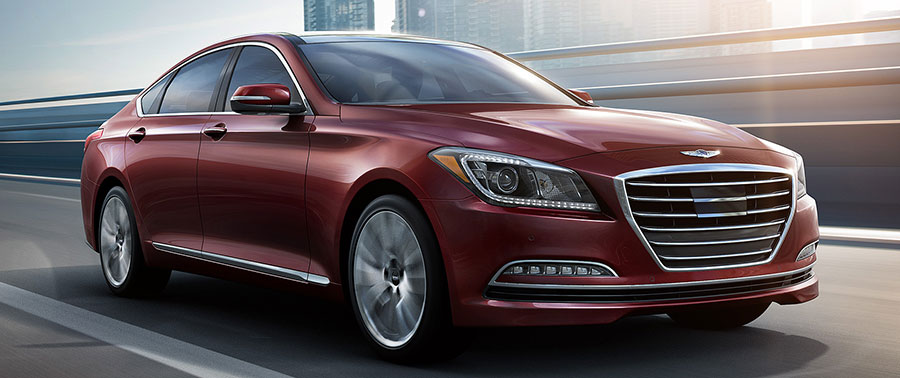 The 2016 Hyundai Genesis is a full-size luxury sedan that treats drivers to best-in-class interior space, refinement, and sporty rear-wheel-drive performance. Best of all, the Genesis offers premium refinement at an extremely attractive price. It's the perfect family hauler, providing everything from upscale passenger comfort to impressive crash-test scores. The 2016 Genesis also puts a premium on performance, offering strong acceleration and ample grip.
2016 Hyundai Genesis
The 2016 Hyundai Genesis cabin wraps passengers in sleek style and modern refinement. All models provide rich leather seating and a leather-wrapped steering wheel, so you'll always enjoy a lavish ride. In the driver seat, you'll find yourself surrounded by high-quality materials. The gauges are clear and concise, without any of the distractions you might find in competitors. When your family members settle into the backseat, they'll find an abundance of head- and legroom. Seats combine soft comfort with substantial support, so road trips feel like a luxury. The cabin's matte-finish wood and aluminum trim speak directly to your excellent taste.
In addition to family-friendly interior space and refinement, the 2016 Hyundai Genesis delivers safety features that will make you feel completely confident. In government crash tests, the Genesis earned a perfect five-star rating for overall safety. The Insurance Institute for Highway Safety gave the Genesis its top score of "Good." This luxury sedan also stocks the latest in safety technology. Driver aids, including lane-keeping assist and adaptive cruise control, monitor your surroundings and warn you of potential problems. The automatic emergency braking system takes swift action if it senses an approaching collision. The Blue Link 2.0 telematics system offers an enhanced safety net, thanks to features like automatic crash notification and an SOS button.
You and your favorite passengers will love the Genesis's tech features. The 8-inch touchscreen interface is responsive and easy to figure out, even if it's your first time dealing with in-car infotainment. The exclusive CO2 sensor activates the ventilation system, effectively adding fresh air to the Genesis cabin whenever necessary. With the navigation system, it's easy to tour brand new terrain. Features like real-time traffic help you save time on the go. The rearview camera helps you spot any obstacles in your path before you back into them.
On the road, the Genesis provides the smooth, refined ride you'd expect from a luxury sedan. Its rear-wheel drive offers sharp performance around curves. When you add all-wheel drive, the Genesis grips the road even tighter, maximizing traction when you need it most. Choose between V6 and V8 power - both of which supply excellent acceleration and quick response to driver input.

Genesis 5.0 Ultimate
The Genesis 5.0 Ultimate combines superior power with an excellent list of luxury features. Inside, exclusive matte wood and aluminum trim are the height of style. On the road, you can adjust the suspension to suit your current surroundings and make the most of your ride. The 5.0 Ultimate also comes standard with the V8 engine for a swift, responsive ride.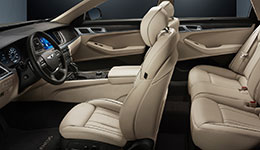 Best-in-Class Interior Volume
With 123 cubic feet of luxurious space, you'll always feel perfectly comfortable.

Lane Departure Warning
This system actively helps you stay on the right track.

311 Horsepower
Surge ahead of the competition.

Exclusive CO2 Sensor
The first-ever in-car CO2 sensor activates the ventilation system for a fresher cabin.
Conclusion
The 2016 Hyundai Genesis has all the right moves. It's the perfect pick for drivers who want the best from a full-size luxury sedan. Inside, you'll enjoy upscale items like leather upholstery and best-in-class passenger space. The Genesis also provides excellent safety features, so you'll always feel at ease. Under the hood, this sedan combines ample acceleration with a smooth, responsive performance. Take the Genesis out for a test drive today!